Spoiler alert: there is no spoiler. In true David Lynch fashion, the latest trailer for Twin Peaks is extremely cryptic. The teaser trailer is truly a tease, which is both hilarious and infuriating. Lynch reprised his role as FBI Regional Bureau Chief Gordon Cole and proceeded to eat a donut for 18 seconds.
Twin Peaks returns to Showtime in 2017, and information about the series has been extremely limited. Series creators Lynch and Mark Frost shared writing and producing duties, with Lynch directing all 18 episodes.
What We Know About Twin Peaks 2017 So Far
Gordon Cole Eats a Donut
There could be some hidden meaning to this, or it could be Lynch having fun with us fans. We'll just take it as a nod to the original series and try not to speculate too much about his dessert choice or wonder who is off to the side drinking coffee. While Cooper was a fan of the cherry pie at the Double R Diner, everyone at the Twin Peaks Sheriff's Station was partial to donuts.
The only other thing to note is that Cole is wearing an updated version of the hearing aids he sported in the original episodes.
Twin Peaks Cast List
It's no surprise to see Gordon Cole in a trailer since Lynch was on the massive cast list released back in April. Mädchen Amick (Shelly Johnson) is also listed. Time will tell if things progressed past flirting with Gordon and Shelly. Shelly definitely deserves a decent guy after being married to an abusive scumbag like Leo. Or maybe she's still involved with Bobby Briggs since Dana Ashbrook is also taking part in the revival. We'll have to wait and see.
Initial Announcement
Laura Palmer did warn us that she'd see us in 25 years. Well, it's been 25 years, and the trailer announcing the return of Twin Peaks to Showtime featured a clip of her in the red room snapping her fingers. The Welcome sign was also prominently featured in this trailer and in the one with Gordon Cole.
Composer Angelo Badalamenti Returns
The trailer released a few months ago features original series composer, Angelo Badalamenti, playing "Laura Palmer's Theme." He's superimposed over the ominous woods heavily featured throughout the series, along with Laura Palmer's homecoming picture.
Kyle MacLachlan & The Cast Talk About Returning 
Kyle MacLachlan, along with several cast members both new and old, talk about what it was like to revisit the series.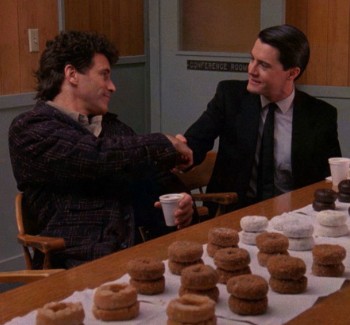 That Was A Bit Mental
All of the official trailers released have been purposely vague. On one hand, that's great. We'll get to see everything unfold how Frost and Lynch envision it. On the other hand, it's maddening. Hopefully, the next teaser trailer will contain an official release date.
Twin Peaks will air on Showtime in 2017.