With season two of The Flash and fifth season of Arrow underway, that can only mean one thing: more cross-over episodes.
With that said, a few spoilers have been leaked in regards to the epic cross-over that will introduce new characters and lead us to the premiere of the upcoming new series  Legends Of Tomorrow.
Victor Garber, who plays Dr. Martin Stein in The Flash discusses Legends  in more depth as well as the epic cross-over between The Flash and Arrow. 
Garber recently spoke with Variety about the series. 
"I honestly have not left this lot where I am," the actor stated. "But I know that the other characters have, and even though I don't really know what happens, I know it's all part of the same world and the lead-up to the premiere of Legends. By the time it hits, I think people will be really excited and ready for it."
Legends brings in new and exciting characters from the DC universe. Garber went on to describe them as a "dysfunctional family."  He then goes on to state, "That's, to me, the interesting and unique part of this series. You have this dysfunctional family all together and traveling through time and trying to combat the worst possible evil history has ever known."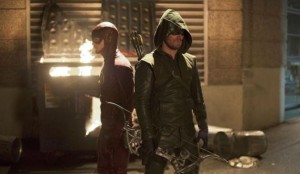 Courtesy of CW
As far as the cross-over episode is concerned, we have no idea when the episode will air. We do know that there will be six Legends cast members appearing in the cross-over episode: Wentworth Miller, Caity Lotz, Falk Hentschel, Casper Crump, Brandon Routh and Ciara Renee.
Currently there are no released plot details; however, you can bet your money the episode will be packed full with plenty of action and high stakes drama!
Until then,  you can catch up with The Flash, on Tuesday nights and Arrow on Wednesday nights on the CW. Also keep your eyes out for the premiere of Legends Of Tomorrow, set for early 2016. 
Are you excited for Legends of Tomorrow? What about the cross-over episode? Let us know you thoughts in the comments below!