There once was a time when a resurgence of talent shows ruled the primetime spots on television. Shows like American Idol ruled supreme and paved the way for The Voice and X-Factor. Every once in a while, there would be those artists who left their mark, although many have disappeared from the public eye. Some voices and the stories of the people from which they emanate stay with us long after their time on these fleeting programs end. Vino Alan was one that stood above the crowd.
He is a man whose vocal prowess commands the attention of his audience with a tone that cuts through the madness of this world and settles into our souls. Hailing from Missouri, the singer-songwriter, who previously performed for U.S. troops, was introduced to a wider audience on the hit FOX show, X-Factor. He wowed audiences with each performance until he was out-voted one night, much to the chagrin of his loyal fans around the world. Although it was a jarring setback for Alan, he has made it common knowledge that he has made peace and has used the exposure as a stepping stone to grow as an artist and as a human being. It was just the beginning for a man who had already been through so much adversity in life.
Over the past few years, Vino Alan has released numerous albums and singles as an independent artist. In addition, has worked with other artists and projects, including a band produced by Shavo Odadjian, the bassist from System Of A Down. Everything that he has experienced, from pain to pleasure, has lent to more creativity, more experience, more growth, and even more support from an audience that hasn't forgotten the man who many never heard of until he opened his mouth to sing Ray LaMontagne's "Trouble."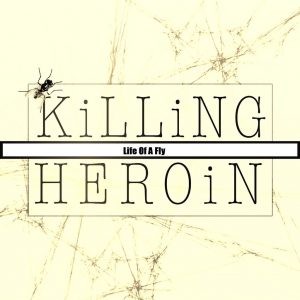 Vino Alan
Vino Alan has become a master of his songwriting craft and is a champion of sober living, using his music to touch the lives of those who suffer from addiction. He is not to be pigeonholed as an artist targeting one group of people, though.
He has made it clear that he stands with those who are in the throes of addiction, which has been a condition that has long been stigmatized and swept under the rug. It has killed thousands and is on the rise. Being in recovery himself, Alan is here to give comfort to those who need it.
Now, Vino Alan is KiLLiNG HeROiN.
With an electro-acoustic vibe, the new album Life Of A Fly will be a collection of songs that will appeal to blues/rock fans as well as those who have leanings toward folkier acoustic guitar-driven melodies. The album is set for release on March 6 of this year, and PopWrapped has the pleasure of premiering its first single, "Time To Let It Go."
Listen to the new song below:
The song opens with Vino Alan's instantly-recognizable vocal delivery, rich in its raspy soulfulness and conviction. Lyrically, the song speaks to the listener in a brotherly way, giving comfort as if speaking to a friend in need. Positivity is the theme, set to the simple accompaniment of an acoustic guitar and light drums, which are perfect for not drowning out the message of this powerful song, which carries through to the last lyric:
"When your dreams come to hard to hold, it's time to let it go."
We are excited to see what is on the horizon for this talented artist. A solo-acoustic tour is set to begin in early 2017 in support of Life Of A Fly, which can be preordered on Vino Alan's Bandcamp page.
Join the "VNation army" on Facebook and follow Vino Alan on Twitter for all of the important updates and tour information.