The Federal Emergency Management Agency (FEMA) tracks natural disasters all over the country. They have several resources to help you keep track of current disasters or check the patterns of old ones. Their latest target: Hurricane Matthew ... but they're using a slightly new method to track this storm: the Waffle House Index.
According to CNN, as of this morning, Hurricane Matthew (Category 1) has made landfall in McClellanville, South Carolina. The new count by Reuters puts the death toll in Haiti above 800 people, and at least four people have died in the US. The government has declared states of emergency in Florida, Georgia, South Carolina, and North Carolina.
Current patterns say Matthew is moving northeast at 12mph and has sustained speeds up to 75mph.
On the other hand, Tropical Storm Nicole is supposedly losing speed while heading south. No coastal watches or warnings have been put in effect, according to the Public Advisory. However, strong swells are going to be affecting Bermuda for the next few days, and beachgoers are advised to remain out of the water.
Although TS Nicole's "maximum sustained winds have decreased to near 40mph (65 km/h)" typical winds for tropical storms can "extend outward up to 90 miles (150 km) from the center."
According to Business Insider and Yahoo Finance, the Waffle House Index has been FEMA's secret weapon to quietly determine how bad some of these natural disasters are.
""Green" is full operations, "yellow" is a partial menu with generator power, and "red" is the apocalypse."
Well, apparently, we're not too far from the truth. FEMA confirmed that they have "an informal relationship" with the Waffle House business. The small chain only has about 2,100 locations (mostly in the South) and close so infrequently that managers often misplace the keys to the front door.
"It's an informal relationship," Philip Strouse, FEMA's Private Sector Liaison, told Yahoo Finance. "Waffle House stays on when the wind's blowing — they never close. They have a small footprint, they're easy, and if these little stores are going out when it only takes a few people to staff … that's bad."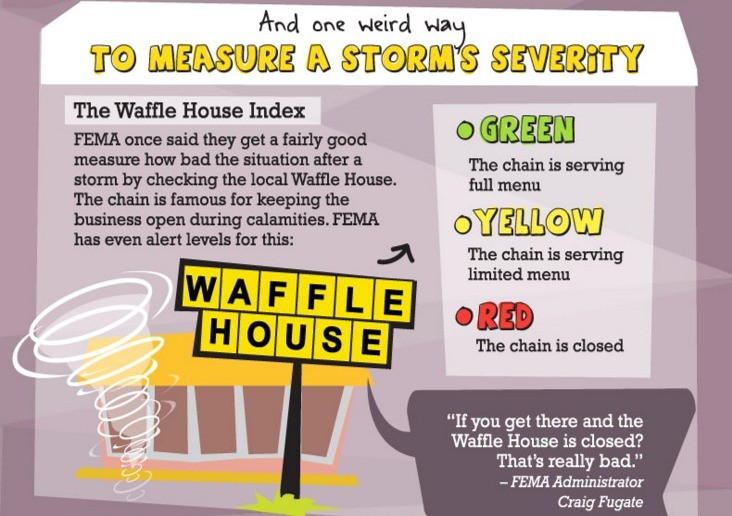 Snopes
The Waffle House Index started  when Craig Fugate, the FEMA Administrator, was director of the Florida Emergency Management Division. After noticing the local restaurant's "incredible resilience in the face of natural disaster," Fugate started the Index in May 2011.
This was just after the Joplin, Mo. tornado.
But many people are using the Index all wrong or misreading it altogether. "The index was for aftermath, for damage assessments." In other words, you can't expect accurate readings during a disaster.
All Waffle House restaurants on 1-95 between Titusville, FL and Fort Pierce, FL are closed. Stay safe Waffle Nation! #HurricaneMatthew

— Waffle House (@WaffleHouse) October 6, 2016
Even so, it never hurts to pay close attention to when the Waffle House finally closes its doors during a storm. Seeing who evacuates before a storm and how long companies (private and public) stay open before, during, and after can provide FEMA with valuable information. They can then communicate the intel to other members of the private sector.
"It's all the info they need and we need — it's reciprocal. They look at the public sector, and they want to know when the governor is going to declare an emergency or do evacuations and close schools. It gives them planning assumptions to save time and money, and to turn off lights and lock doors based on when evacuations take place."
As of October 7, 2016, approximately 48 Waffle Houses have closed.
Waffle House closing update- 48 coastal restaurants are closed from Palm Bay, FL up to Savannah, GA. Stay safe!! #HurricaneMatthew

— Waffle House (@WaffleHouse) October 7, 2016
Follow the Waffle House and FEMA for #HurricaneMatthew updates.