There are a number of things I look for when reading a memoir of any type to make it worth my while. It has to inspire me, it has to make me look at something in my life and consider doing it a new way, and it has to make me laugh.
Felicia Day's new book (available today), You're Never Weird On The Internet (almost), certainly accomplishes all three.
Though the book's "Be Yourself" message will certainly resonate with any audience, whether they are Felicia Day fans or not, it will be a one-sitting read for pop culture junkies who tend to fit the Felicia Day fan base. For me personally, a geek girl the same age as Felicia, a fan of all the same things as Felicia, similar upbringing with a similar sense of humor, this book hit home to me more than any other memoir I've read in a long time. I found myself revisiting some of my own childhood memories while reading about hers.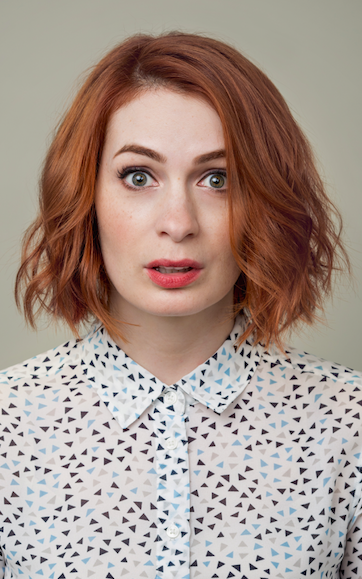 Courtesy of Liza Anderson/ Felicia Day
But Felicia's reach is so much further than just 30-something geek girls. Her story is also the story of the rise of social media and the internet as well as gaming from its early days to what it is now. Felicia's story is also the story of a homeschooled child of the '80s, a young college student on a full ride at the University of Texas where she double majored in music performance and math. It's the story of an artist trying to create her art. More than anything, though, it's the story of a beautifully flawed woman, finding comfort in who she is. Something all of us can relate to.
Whether you are a college bound merit scholar, a struggling writer, a classical musician or a gamer in front of the screen, You're Never Weird On The Internet (almost) will remind you to embrace who you are and to follow your dream, whatever it is. It will drive home the fact that, whether we're on the internet or together in real life, we are all misfits in this world together.
Did I mention it will keep you laughing?
You're Never Weird On The Internet (almost) is available TODAY! 
You can also meet Felicia in person during her national book tour.