After a successful Kickstarter campaign raised more than $50k, the web series, Muzzled The Musical, has finally gone live on YouTube. Described as "An epic saga of mean girl princesses and musical warfare," Muzzled is a who's who of voice acting and web entertainment with appearances from some of your favorite actors from your television favorite shows. Created by Zach Grafton (School Of Thrones) and Matthew Mercer (Batman: Arkham Knight), t
he full synopsis for Muzzled reads:
To the Royal Kingdom of Serenadia, where singing is power. With the right song, you can bring peace to the downtrodden, bake a delicious birthday cake... even KILL!

Hence, the Golden King has decreed all Blackhearts must bear the Muzzle: a magic tattoo that punishes those who try to sing.

See, the Kingdom was once ravaged by years of bloody musical warfare waged between the Golden King and the Black Matron. Now, twenty years after the King's dulcet baritone restored peace to the land, the Matron's teen daughter Malfalia is determined to shed her Muzzle and sing. So Malf sneaks off to meet her idol, Princess Ambrosia... only for Ambrosia to cruelly trick her into triggering her Muzzle and, quite satisfied, leave her screaming on the cold Kingdom asphalt.

But Malfalia - even writhing, heartbroken and humiliated - is still her mother's daughter. She sings through the pain, shatters her Muzzle and vows revenge: to masquerade as a princess, infiltrate and destroy royal society... then free her fellow Blackhearts from the tyranny of the Muzzles!

Courtesy hypable.com
Muzzled stars Ashly Burch, as Malfalia, the Blackheart with a golden voice on a crusade to break free of the overbearing tyranny of the princesses. Gamers will recognize Burch as the voice of Chloe from the hugely successful Life Is Strange. Burch is hilarious and charming as Malfalia. You can't help but cheer her on as she infiltrates the inner princess circle with the erm... help of her friends, Hadey (Mary Kate Wiles) and Damon (Maxwell Glick). And Wiles and Glick are fantastic as her sidekicks, practically running away with every scene.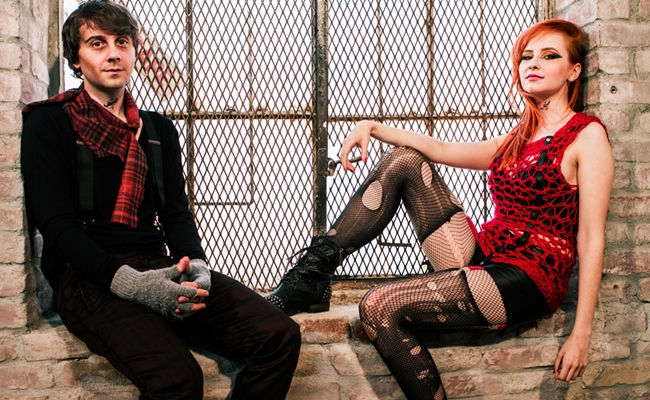 Courtesy tubefilter.com
The main princess/mean girl Jane Austen fans might recognize as Ashley Clements aka Elizabeth Bennet from the fantastic web series, The Lizzie Bennet Diaries (based on Pride & Prejudice). Clements shines as the spoiled Princess Ambrosia, keeping the kingdom and her boyfriend, Prince Dashing (Brendan Bradley), firmly under her thumb.
Muzzled also stars Juliet Landau (Buffy The Vampire Slayer) as Malfalia's mother, The Black Matron and Jeff Lewis (The Guild) as Captain Hook. And if you're quick, you can spot featured extras like musician, Mike Phirman  and Grant Imahara (MythBusters).
Overall, Muzzled The Musical is extremely well done. The songs, written by Jason Charles Miller and Zach Grafton, are catchy and funny and somewhat reminiscent of the Buffy The Vampire Slayer musical episode, "Once More With Feeling." And the song-battle in episode two will having you pumping your fist in the air along with Princess Funbutter.
I found myself smiling non-stop through all three episodes of Muzzled and watched them all more than once. Muzzled The Musical is quirky web entertainment at its best. The performances are all amazing and it left me wanting more. And it made me want to see a live stage production...can we make that happen, guys? 
Check out the first episode of Muzzled The Musical below! All three episodes are available on the Will Save Productions YouTube channel and the 10-song soundtrack can be purchased through i-Tunes and Amazon. So pick up the soundtrack and subscribe to their channel to support indie film!