Anime: Wolf Girl & Black Prince
Released By: Sentai Filmworks
Release Date: March 8th, 2016
Retail Price: $59.98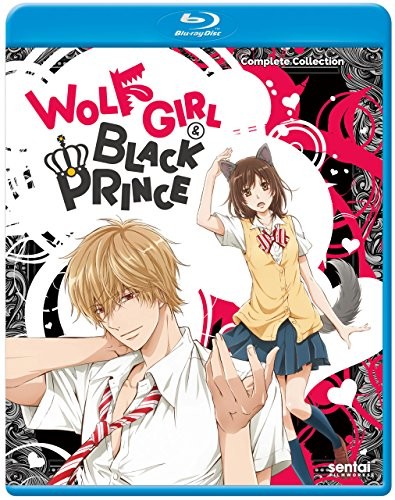 sentai filmworks
The Sentai Filmworks anime series Wolf Girl & Black Prince tells the story of a 16 year old girl named Erika Shinohara, who has a sense of vanity. One day, the teenager decides to fabricate a boyfriend in order to impress her fellow classmates – even using a photo of someone who turns out to be a student at her school. Though she clearly doesn't have a boyfriend to begin with, her extravagant lies only put her into another predicament when Erika tracks down the made-up boyfriend to explain the situation. On a positive note, the young man named Kyouya Sata actually agrees to perpetuate the façade… however he requires something from Erika in return - he may seem genuine at first, but he enlists her to play the role of his pet dog. If the premise is slightly unusual to you, you should know you aren't alone. Anytime you hear of something similar to this depiction, it would definitely feel geared towards a more "adult" audience, but the series does manage to add more depth to the anime. 
The character Sata is deliberately created to create a mass appeal with his mysterious demeanor, but the more you see his character you quickly discover he's more of a heartless sadist (most of the time.) His one major act of kindness in covering for her is actually self beneficial because he turns it into blackmail to keep her in this more submissive role. Of course like in most of these series or stories – Erika begins to develop deeper feelings for Sata and his unusually desired relationship. It can be said that the character does take the journey throughout the series to go through the motions of (semi) acknowledging his feelings with the occasional evidence of his compassion for Erika. Those moments don't quite make up for his chauvinistic character, but seeing his fractional growth does make things better going into the later episodes of Wolf Girl & Black Prince. 
Erika has characteristics that are reminiscent of multiple characters, for example Anastasia in 50 Shades of Grey for her experimenting with submission, (minus the full-on acts thank goodness) and in a comedic tone, Olive from the film Easy A. The anime does pull from comedy as well as the occasional shift to seriousness, but one characteristic that is difficult to overlook is Erika's compulsive lies. From her very introduction she's created a false persona for those around her, which can be expected to some capacity in high school, but she takes it a step further. Even when things get to a point where she should fess up to gather her dignity, she continues to add flames to the fire. Thankfully, at one point Erika begins to determine that she isn't receiving the emotional support that she needs for an authentic relationship, differing from many fictional characters who repeat the steps of low self worth. 
Normally, this genre of anime is something I would fully dread watching, but I am glad to note that it includes scenes that go deeper than surface level issues. Any of these moments are usually the standout contributions to Wolf Girl & Black Prince. The slow evolution between Erika and Sata makes it more bearable than the likes of other anime and film relationships that try to create effective storytelling, but that doesn't mean it couldn't use a little work. Having the shojo genre (geared towards a female skewing audience) and a predictably tsundere character does leave room for typical faults, which become apparent in various scenes during the 12 episode anime. In hindsight, making his tsundere persona more of the falsified aspects of Sata would add more progression – instead of merely using mostly subtleties. 
One thing that the series cannot be faulted for is the above average artwork in Wolf Girl & Black Prince. The design of Sata makes it feasible that he is a character who others would be fascinated by, and the nice touch of deep red eyes sets him apart from other characters. Erika has a slightly generalized appearance for the coy anime females, opposed to others that have a unique attribute to differentiate. The Japanese voice cast brings the characters personalities to the forefront of the series, with Sata's voice actor being a specifically positive inclusion to the anime. If you have an interest for shojo, tsundere, or some suggestive comedy – Wolf Girl & Black Prince might be a good anine to add to your watch-list!
Overall Score: 6.5/10
Aedan's Final Thoughts:  
Stronger than other series of the same nature

Appealing character design for Sata

They did manage to add more than the basic premise before the series concluded.