Beware of spoilers in this article!
It's been a long time coming but on June 2nd, Wonder Woman, starring the wonderful Gal Gadot and directed by Patty Jenkins, hit theaters to critical acclaim. While DC has not had huge theatrical successes in the last few years, especially not compared to Marvel, Wonder Woman is changing the game. We already got a glimpse of our hero in Batman V Superman, so it made sense to tell her full origin story through her own movie, and especially because we'll be seeing her again soon enough in Justice League.
What Wonder Woman did well
Wonder Woman was powerful. Diana Prince took orders from no one, showed no fear, and looked flawless while doing it. There's one scene where she just marches into war in slow-mo while rock music plays and she's deflecting bullets left and right and it is just...beautiful. The princess of Themyscira didn't even think twice before accompanying drowning spy Steve Trevor to London in order to stop World War I. That kind of heroism and fierce determination made this movie a pleasure to watch. Even though Diana knew very little of mankind's world, she never once lost confidence in her ability to kill Ares, the God of War, and save the world. I loved how diverse her fighting was. She used her sword, shield, lasso, and her arm braces in some wonderfully choreographed fight scenes. I could have used less slow-mo, though.
And clearly DC has got the memo: jokes are good. While Wonder Woman wasn't the funniest movie ever, it was lighter than anything from DC so far and that was appreciated. Chris Pine's Steve Trevor had a lot to do with that. Watching him trying to do his job as well as keep an eye on Diana was funny and relatable. Every time he struggled to explain something like why she can't just carry around a sword in public, we relate to his mere humanness and frustration. I wasn't a huge fan of having this forced relationship in this empowering movie, but overall, it was cute, and I guess having Diana really connect with a human was important for her quest and important for our understanding as to why she's still hanging around and saving humans so many years later.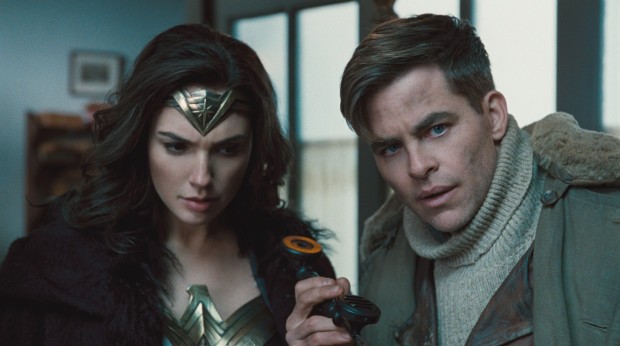 What Wonder Woman did wrong
And while this movie was really good, it did have some flaws. The movie was a bit slow to start, the CGI was not as good as I've seen, and I felt like some of Diana's abilities were under explained. I mean, we knew she could fight and was stronger than most, but there wasn't really an explanation as to why her arm braces were so powerful (were they from Zeus too?) or if there were limits to her lifting ability or why her jumps sometimes looked like she was flying (...can she fly?). And while I liked that Diana had her own plans and refused to sit aside like so many men were telling her to, I do wish she'd have listed to Steve a little bit too because it was war and he knows what he's saying and she was lucky that she didn't get hurt. I'm all for girl power but there were a few times I was mentally screaming Diana, please, take a sec and listen to him! He's not the enemy!
But I think the movie's biggest flaw was that though Diana had her hair braided back a lot while she was training and fighting on Themyscira, she literally and purposely unpinned her hair seconds before storming onto the battlefield, and as anyone with long hair can tell you, that is very incorrect.
Wonder Woman overall
If you're a comic fan, Wonder Woman should not disappoint you. If you're a DCEU fan, Wonder Woman should impress you. If you're a human with eyes, Wonder Woman should enthrall you. If you're a female, Wonder Woman should inspire you. All in all, this movie was everything Wonder Woman fans have been waiting for and more. Please go see it. It's not perfect but it's great. And what's more is how natural this female hero felt. Thank you, DC, for bringing such a great female to the big screen and doing it right.