Frank Castle is back to fight his way
We first met Frank Castle a few years ago in season two of Daredevil, and fans were very much intrigued by the wild and intense character so wonderfully played by Jon Bernthal. His introduction into the Marvel Netflix shows was so well done that it was no surprise that a solo show for the Punisher was soon announced. On November 17th, thirteen episodes of Frank in all his brutal glory hit Netflix (watch the promo here). Featuring enough blood to fill a small lake, The Punisher is an overall impressive show, and if you can handle a bit of gore and like military dramas, then you might really like this, as it follows ex-marine Frank Castle as he seeks revenge for the murder of his family by taking down people from the military and anyone who opposes him. The show really embraces the roughness and the darkness Marvel's Netflix shows are famous for, but it doesn't get too creepy or too deep.
It's important to note that if for some reason you didn't watch season two of Daredevil, you can still enjoy The Punisher. Of course there are a few references and things to know, but they're not big enough to interfere with you watching this now. However, EW does have a handy Frank-centric recap if you want a quick refresher.
Warning for minor spoilers in the rest of this article.
The good, the bad, and the mediocre
Personally, while I enjoyed the show for the most part, I found the first half to be kind of slow and boring. There wasn't enough action, and the bits we did get weren't even that extreme. Not that I wanted to see brutal murders all over the place, but if you have a character as merciless as Frank that I'm voluntarily watching, then I do expect more than what the first seven episodes delivered. Luckily the second half kicked it up a notch, both in terms of murders and plot. The stakes were raised, and it was really cool to see all the characters finally come into their own. However, one of my biggest complaints with this show was that there wasn't a clear villain for most of the time. We had all these little characters that I constantly wondered if they'd become the big bad, but in the end, it was very weakly done. Think back to Daredevil and Jessica Jones where Fisk and Kilgrave were fantastic villains, perfectly antagonizing the hero. But The Punisher just didn't have that aspect, and combine that with the fact that Frank doesn't really have any enhanced powers or skills, this show didn't really feel like a Marvel show, or at least not one like Netflix has given us before.
As for the characters, they were okay but not as great as I'd have liked (please note that I haven't read the comics so I can't compare that). Frank Castle really carried the show, allowing us to see several sides of him, which was amazing. He really made us root for him, and not just because we feel bad for him. He is a brilliant guy, and that was shown again and again, but he's also a bad guy. He's committed many murders and he enjoys it too, so he made for a really fascinating main character. Then there was Micro aka David Lieberman (played by Ebon Moss-Bachrach), and it took me a while to warm up to him, but eventually, I came to enjoy the data analyst. The Punisher had very few comedic moments, but Dave had a nice dry wit to him that really made his interactions with Frank fun to watch. The partnership that these two strike up was probably my favourite part of the show because it was so interesting. They're so different but work together fairly well, even though they were probably seconds away from killing each other at least a dozen times. Dave has a family he's separated from, and I just need to express how annoying I found his wife, Sarah. The female lead of the show was in the form of CIA agent Dinah (pronounced dee-na) Madani (played by Amber Rose Revah). While I liked her hair, I didn't ever really love her. I found her boring throughout. The other lady in this show is the only other familiar face: Karen Page (played by Deborah Ann Woll). If you'll remember from Daredevil S2, she helped Frank in court and there was no denying an underlying mutual attraction between the two, and that carried over to this show too. Karen brings out a different side of Frank and I would have liked to see more of that, but she is only in four episodes. Which is better than nothing. She basically the only tie to Frank's previous introduction, so at least we got that (and yes, I am a little sad that they couldn't slide in Claire Temple. There was even a perfect part where Frank took an arrow to the shoulder desperately needed reliable and safe help). Other characters included Billy Russo and Curtis Hoyle (played by Ben Barnes and Jason R Moore), two friends from Frank's military days, and I liked their involvement as they really showed different aspects of life after war and how being in the military can change a person. As did Lewis Walcott (played by Daniel Webber), a young ex-soldier who I think really paralleled Frank and his demons in an interesting way. I think perhaps the many characters and their specific small storylines really played a part in the boring first half of the show, and only when the storylines came together or ended in the second half did it amp up.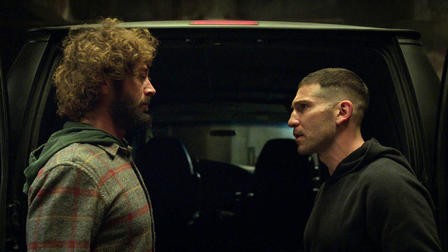 As Luke Cage took an opportunity to touch on race in America, The Punisher touched on the hot topic of gun control but didn't make the show too political. I don't want to get into it especially given the fact that I just complained that the show sometimes wasn't gory enough, but I do think it was admirable for them to include these varying opinions in a military/vigilante show like this.
We got just the right amount of The Punisher
The Punisher did end off nicely. Would I watch a season two, should the show get renewed? Sure. But I think this one season was solid enough and closed off Frank's story pretty well. I don't feel like we need much more.
Despite what you may have thought about Marvel/Netflix's last few shows (Iron Fist and The Defenders), The Punisher is a show of its own with a darker and more graphic style, and if you want to see that grittiness that we haven't seen a lot of lately, then give this show a watch. Sure, I would have liked a few more jokes in there, but Frank's situation and his overall personality is not one that lends itself well to sarcastic remarks and cheap laughs. Netflix is a platform that allows for more than regular cable TV can, and the Punisher and his many sides is a perfect character for such a platform, so bravo to Marvel for bringing him to light in an entertaining way and not losing anything from the comics. All in all, another win for Marvel, I'd say, though it's not my favourite of the Marvel Netflix shows.
Have you watched The Punisher? Do you agree with my thoughts?