***Mild spoilers ahead.***
Season One of Marvel's newest Netflix show Luke Cage dropped on September 30th, and fans devoured it as soon as possible, eager to see more of the muscular, bulletproof man we met a year ago in Jessica Jones. It stars Mike Colter as Luke, Simone Missick, Alfre Woodard, Mahershala Ali, Theo Rossi, Erik LaRay Harvey and Roasario Dawson. If you haven't seen the show, then that's your first mistake, and your second will be continuing to read this post because I have thoughts, and I'm gonna share them.
Since we already knew of Luke, this show was able to creatively tell us more by showing us what happened post-Jessica as well as his back story, all while tying it together to the larger Defenders plot. It was great. Luke had moved to Harlem, got a job in a barber shop and intended to lay low, but his past caught up with him and he couldn't escape who he is -- a hero.
One thing the show did really well was provide a parallel to real world issues. Taking place in Harlem, the majority of the characters were black, and several times the show touched on black males in hoodies, police brutality, gun regulation and race. It made the show feel real and deeper than a superhero show has ever gotten. This show is timely.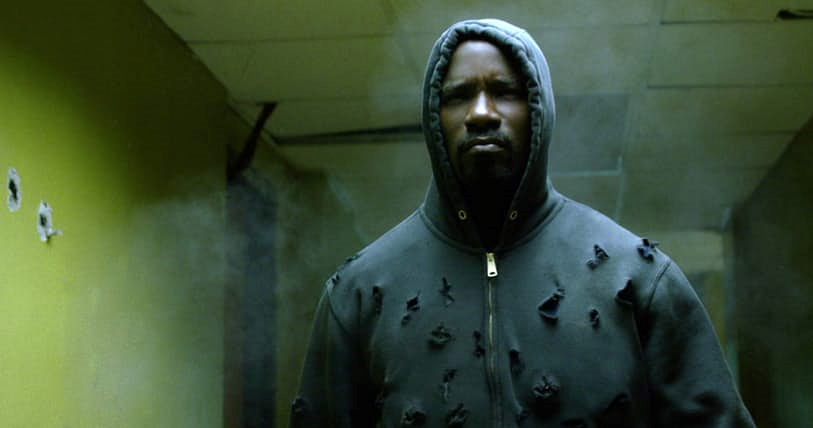 cbr.com
Like all of Marvel's Netflix shows, Luke Cage was gritty, and there were several murders that were very gross and gory, but, overall, I found it to be lighter than Daredevil and Jessica Jones. Maybe I'm just desensitized to the violence now. Still, punching and gunshots aren't exactly that exciting anymore. Similarly, the show was lighter in terms of literal lighting as well, which I appreciated. But, overall, I found the show not to be as creepy as Daredevil and Jessica Jones. Wilson Fisk and Kilgrave were creepy. They made you squirm. Stryker and Cottonmouth did not. Mariah wasn't too bad. The creepiest was Shades, but I think most of that was just his voice. Personally, I like lighter shows, but I was kind of disappointed. The show also lacked comedy. Foggy provided the comedy in Daredevil, and Jessica's sarcasm and dry lines did it for Jessica Jones, but there wasn't very much comedic relief at all in Luke Cage. That being said, it was fitting.
In terms of characters, they were fantastic. They may not have been creepy, but they were interesting. The gangster/street vibe that this show played with was very well done. Sometimes I'd forget that these characters all had iPhones because I was transported to another world while watching. Cottonmouth, Shades and Mariah were very convincing as villains. Furthermore, you really felt the strength and understood the community aspect of Harlem through the other supporting characters like Pop.
Misty Knight was my favourite new character. From the minute she started sinking hoops with that boy, I rooted for her, and seeing her struggle and fail and succeed and persevere was fantastic. She's flawed, but that was good to see. She was always just a dedicated cop. I think a lot of people connected to her for that.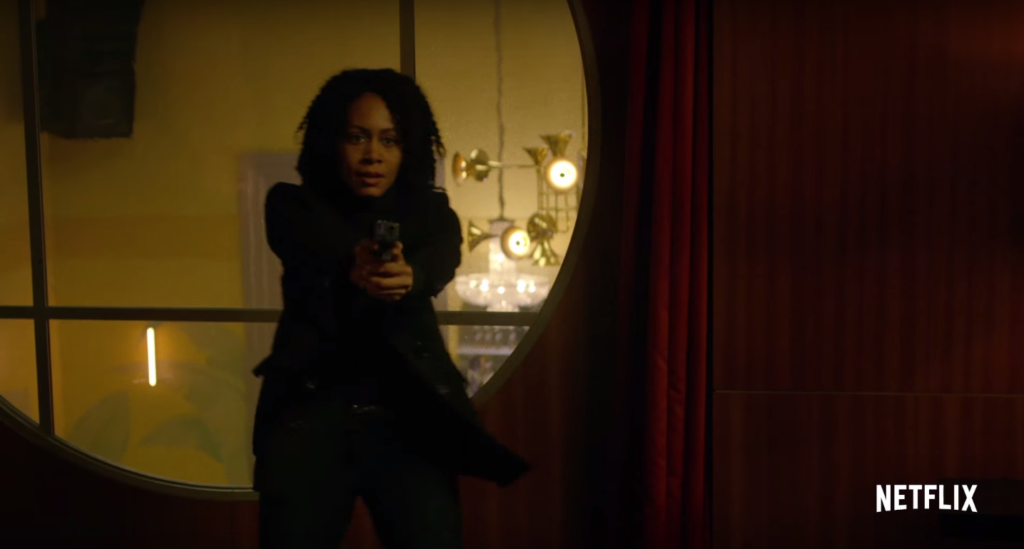 geekgirlauthority.com
Claire Temple was my favourite returning character. As the link between the Marvel Netflix shows, I knew she'd be present, but we got so much more than I was ready for. Claire came onto the scene, and the show really picked up. We got to see her not only be a brilliant doctor but a tough fighter and a good friend, too. I'm so glad that we got to know more about her and watch her play such a vital role. She saved so many lives and actually wanted to. She's come a long way from patching Matt up in secret, as now she wants in on the action. I can't wait to see her in Iron Fist next. The only thing I didn't completely love, was, ironically, her love. She and Luke worked really well together as a team, but I don't completely support the romantic side of things. I kind of wanted her just to be there and fix everyone up without it turning into a romance. Not to mention that the actual feelings part of their relationship seemed to be very sudden, so I was a little blindsided.
Funnily enough, Luke's character wasn't all that special. What you see in Jessica Jones is really what you get. He's pretty somber and serious. He doesn't say much, and what he does is usually something along the lines of "I don't want to be involved" or "This is my fight only" or some other smooth line. He's not a funny guy, but I feel like perhaps he would be somewhat witty if he wasn't trying to deal with everything that was going on. However, Mike Colter plays him really well. Fantastic, really.
Of course, the little easter eggs and homages to the comics were fun to find. Marvel always does that well.
Of the three shows so far, Luke Cage definitely had the most open ending. While the main story came to a fairly complete close, a lot of little loose ends weren't tied up, leaving viewers with many questions. Hopefully Iron Fist can answer some of them, because waiting until the final Defenders show will be hard. I love a good ending, so I wasn't thrilled with how Luke Cage ended, which is funny because there were several times I was sure the plot would wrap up, but yet another twist came!
Overall, Luke Cage is another Marvel hit. It had all the ingredients of a good show! It doesn't feel like a superhero show, but, at the same time, has the cool Marvel action and power we all love. I'd say part three of the Defenders series is pretty good, and I'm anxiously awaiting more!
What are your thoughts on Luke Cage? Is it your favourite of Marvel's Netflix shows?