Pet Gotcha Day! revolutionizes and modernizes the pet adoption process through the use of fully immersive 360-degree video technology.
How does Pet Gotcha Day! use immersive video to facilitate pet adoptions?
Immersive video is also known as 360-degree video. Several cameras or an omnidirectional camera shoot the same spot, giving the viewer control of the viewing direction. Immersive video transports viewers directly to the pet, allowing them to experience the pet's environment alongside of them. This allows the viewer to get to know the pet's personality and demeanor prior to visiting the shelter or rescue. This model helps every pet put their best paw forward, capturing their best moments on video and showing their playful and affectionate sides as they interact with volunteers.
Pet Gotcha Day! is bringing pets to the runway
In addition to the adoption website, Pet Gotcha Day! believes in helping their animal welfare partners be successful. With that spirit in mind, Pet Gotcha Day! is hosting a fundraiser on behalf of six of the numerous shelters and rescues featured on their adoption site using 360-degree video technology. The event is called Heroes to the Rescue: A Runway Event Featuring Adoptable Pets and is being held on Friday, December 1 in Chicago. Attendees will get to meet Chicago's hottest adoptable pets as they are escorted down the runway by local heroes!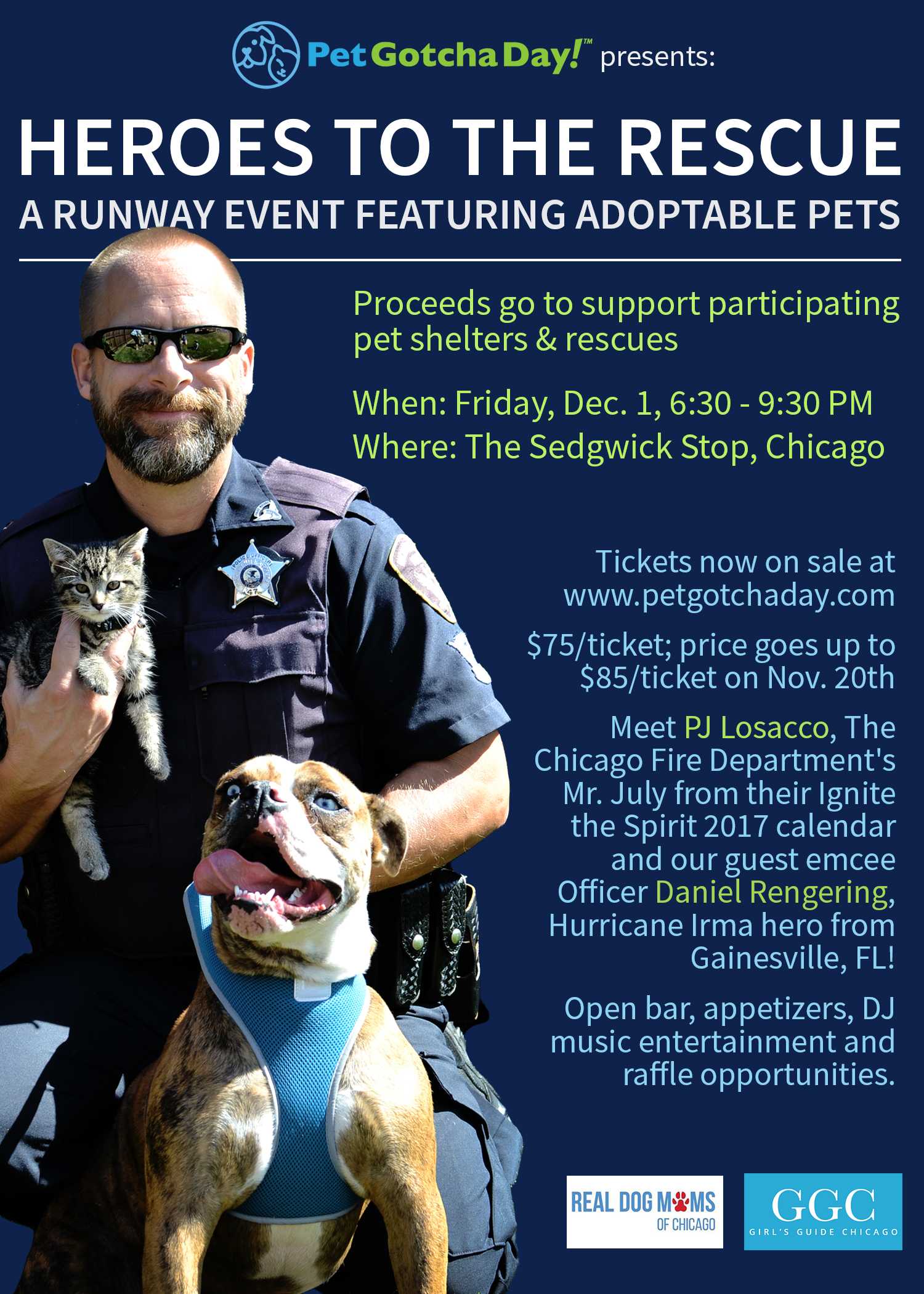 Special guests include Officer Daniel Rengering (Hurricane Irma hero and social media favorite), PJ Losacco (Chicago Fire Dept's Mr. July from their Ignite the Spirit charity calendar), and several local police and fire heroes who have a soft spot for furry adoptable friends. Attendees will mingle with pet friendly folks and enjoy an open bar, heavy appetizers & DJ music entertainment while supporting the shelters and rescues who provide love to the homeless pets they serve.
"Pet adoption is so important, especially with so many animals displaced by recent natural disasters. There are so many animals that need good homes, and I really like how Pet Gotcha Day has taken it to the next level, using technology to make it easier for people to adopt," Officer Daniel Rengering shared.
Generous corporate donors are covering 100% of the event costs, ensuring that every dollar from ticket and raffle sales go directly to the six shelters bringing pets to the event.
Heroes to the Rescue: A Runway Event Featuring Adoptable Pets is being held on Friday, December 1st from 6:30pm - 9:30pm at The Sedgwick Stop in the Chicago. Purchase your ticket now at www.petgotchaday.com!