Last week on "The Gentleman's Name Is Gorgon," we had to say goodbye to Gorgon after he died trying to contain Mordis. This week on "Havoc In The Hidden Land," the remaining members of the Royal Family make their way back to Attilan and offer Maximus a chance to become Inhuman.
The Royal Family is still trying to capture Auran's army. They have another face off in the jungle and Medusa convinces them to surrender by suggesting that Black Bolt will use his voice. Declan pleads for his life and claims that he was only connected to Maximus through funding. They quickly figure out that Maximus is planning to undergo terrigenesis again, and that he likely murdered the Genetic Council to ensure it happens.
Black Bolt wants to send Maximus a message
Medusa is exhausted from all the fighting and death. She and Black Bolt seem to be at an impasse, because he does not want to show Maximus any mercy and she doesn't want anyone else to die. Black Bolt decides that the best course of action is to send Maximus a message, in the form of Auran's lifeless body. Not really dead since she can come back to life. Despite this, Medusa isn't pleased with her husband.
Crystal heads back to Attilan and gets Maximus to agree to parley. Maximus plans to meet Black Bolt midday so they can discuss their differences. He's pleased that he has the upper hand and that his family had to come to him. He's convinced he's getting what he wants.
Black Bolt and Medusa continue to see things differently. She doesn't want all the fighting to tear them apart. Black Bolt directs the family to one more location. Lockjaw howls and a few seconds pass before there's movement in the water. It's Triton!
How many secrets is Black Bolt keeping from Medusa?
Apparently, Black Bolt set up a secret meeting place with Triton, which Medusa knew nothing about. This explains why Black Bolt doesn't look surprised as Triton reunites with everyone.
Triton! ????#Inhumans pic.twitter.com/WsBgaPk7ro

— Marvel's Inhumans (@theinhumans) November 4, 2017
Medusa is even less thrilled when she finds out Black Bolt kept another secret from her. When they return to Attilan, they go directly to the royal bunker which she has never heard of before. She wants to know what else she didn't know about. She asks if losing her hair was part of the plan.
Black Bolt takes her aside so they can talk privately. She understands if he keeps things from other people, but she expects him to be honest with her. She feels insulted. Medusa loves him, but doesn't see herself just as his interpreter. She reminds him that she is the Queen, and that they move together or not at all. Black Bolt then reveals they are going to war, and Triton is sent off to enact the next phase of the plan.
Maximus is waiting by Auran's side when she awakens. He informs her that he wants to take the high road and honor Gorgon's death. Auran confronts him about wanting to undergo terrigenesis again and reveals that she admired him as a human, but is starting to question his motives.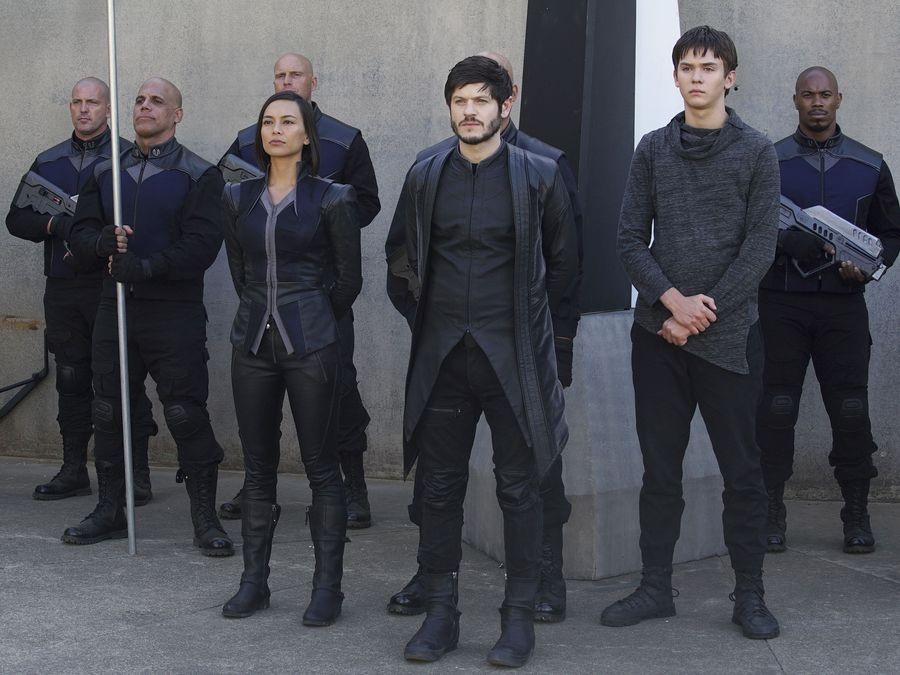 Will Maximus accept Black Bolt's offer?
At the parley, Medusa extends Black Bolt's offer to Maximus. They will extend him grace, and let him undergo terrigenesis and the throne will return to them. Maximus quickly accepts their offer.
"I accept." #Inhumans pic.twitter.com/krd23vdZDF

— Marvel's Inhumans (@theinhumans) November 4, 2017
But the moment they turn over Declan to him, Maximus gleefully points out that he has the upper hand and that he intends to remain king. He declines the offer. Since violence is forbidden at parley, Black Bolt promises Maximus that he will kill him the next time he sees him.
Maximus visits Declan and reveals that he intends on choosing what powers he'll gain through terrigenesis. Maximus wants to get started right away, but Delcan isn't sure he's ready. Maximus tells Delcand that it was an insult to be ignored by terrigenesis.
Medusa doesn't think all hope is lost with Maximus
After the failed parley, Black Bolt and Medusa regroup. She reminds him of the first time she visited him in the quiet room. It was right after his parents died and she went in there intending to gloat, because he was responsible for their deaths and she was understandably upset about her parents being banished. She was convinced he was irredeemable, but she quickly changed her mind the moment she saw him. In his eyes, she saw pain that mirrored her own because they were both caught up in things they couldn't control. When she likens that pain to what he and Maximus are going through today, Karnak interjects.
Karnak found a flaw in Declan's research and is convinced he can use that flaw to bring back Gorgon. Bringing back Gorgon isn't guaranteed, but he won't get the chance. Black Bolt forbids it and refuses to acquiesce as Karnak pleads his case.
Meanwhile, Auran is trying to figure out what's going on with the power grid and doesn't know that Karnak is watching her. He reevaluates his initial plan and then takes out the guards and Auran. She does not want him to kill her again. Lucky for her, that's not his plan. He needs her DNA to bring Gorgon back to life.
Karnak turns the table? #Inhumans pic.twitter.com/AM6I8bep5g

— Marvel's Inhumans (@theinhumans) November 4, 2017
Despite everything going on, Medusa takes a moment to check on Crystal. The princess reveals that she misses Dave and that she wants to live a normal life.
Sisters#Inhumans pic.twitter.com/5svQUyKoAU

— Marvel's Inhumans (@theinhumans) November 4, 2017
Karnak risks everything to bring back Gorgon
Auran admits that her powers have diminished, but Karnak is willing to take that risk. Gorgon's body is injected with her DNA and he's placed in a terrigenesis pod. After a crystal is in place, the mists appear. Karnak is desperate for it to work, but nothing happens. They hear people in the distance, and Karnak and Auran go their separate ways.
With his doctor in tow, Maximus intends to undergo his second terrigenesis. He's emotional and shares that he had imagined this happening differently. At his first terrigenesis ceremony, his family was there. He was surrounded by loved ones and now he's alone.
Except, there's one family member nearby. Gorgon is still in his terrigenesis pod, but unresponsive.
Maximus gets word that surveillance is down and he goes to investigate, not knowing that having him out in the open is part of his brother's plan. Triton is in disguise and takes down Maximus' guards before coming face to face with Maximus. Triton drops his weapons and pair fights before Triton subdues him. Triton take Maximus directly to the bunker, where Black Bolt is waiting.
It seems that Black Bolt intends to make good on his promise to kill Maximus. However, Maximus is one step ahead of his brother. He has a fail safe that will destroy the dome if he dies.
Declan is still at the pods and playing with a crystal. Moments later the lights go off, and groaning is heard. Gorgon awakens! But is he the same Gorgon? Or has this second terrigenesis turned him into a monster like the old tales warned?
Final Thoughts
I love how strong Medusa and Black Bolt's relationship is. She's not afraid to challenge him. He truly does love her, but doesn't understand that he doesn't need to protect her by keeping her in the dark. She's more than capable of handling anything that comes their way.
I wish we would've gotten the chance to see more of Medusa and Crystal's relationship. Medusa was still a child herself when her parents were banished and she was responsible for raising her sister. I would've liked to see their relationship unfold more. How did they find that balance of being sisters, with Medusa as her primary caretaker? Add to that the pressure of being in the Royal Family. There's just so much to explore.
Last week, I wondered if Auran would be able to help Gorgon come back to life. And she did, thanks to Karnak's plan. But will Gorgon be the same? Or will he be different? I'm not sure how Karnak will cope if Gorgon isn't himself.
Crystal mentioned wanting to live a normal life, and Medusa alluded to her living a sheltered life on Attilan. If the Inhumans flee to Earth, I feel like Crystal will make a beeline to Dave.
I miss Louise.
The confrontation between Triton and Maximus was set to a cover of Soundgarden's "Blow Up The Outside World." Perfect song choice, because Maximus can destroy Attilan at a moment's notice.
"Havoc In The Hidden Land" references Fantastic Four Volume 1 #159. Next week's episode, "...And Finally Black Bolt," is the finale. As the brother's battle each other, Maximus is willing to let the dome collapse and Medusa wants them to return to Earth. What will become of Attilan and the Inhumans?