"Feel my blood enraged
It's just the fear of losing you
Don't you know my name
Well, you been so long
And I've been putting out the fire with gasoline
See these eyes so red
Red like jungle burning bright
Those who feel me near
[Just] be still with me
But it wouldn't believe what I've been thru
You've been so long"
- David Bowie, "Cat People (Putting Out Fire)" (album, Let's Dance, 1983, remastered 2002)
About ten minutes into "Uncharted," Outlander's eleventh episode, there is a magnificent wide shot of a small figure huddled next to her newly created fire, the massive, ancient ironwood trees of the jungle forming her sanctuary for the night (thank you Outlander Online for capturing it!). There is something primal about this wordless scene as the woman stares into the flames, alone but not helpless or bereft of purpose or power. With the flames, she can create, destroy, change, survive. Burning through the last of her masks, the woman exists both in and of the world, unrestrained by time or space. We see Claire as she might have sat in Egypt as a child, or at an encampment in France as a young adult, or at the base of a Highland mountain. The act is so unmistakably Claire as a singular being, yet it connects her to an infinite line of women at once creative and dangerous since time immemorial.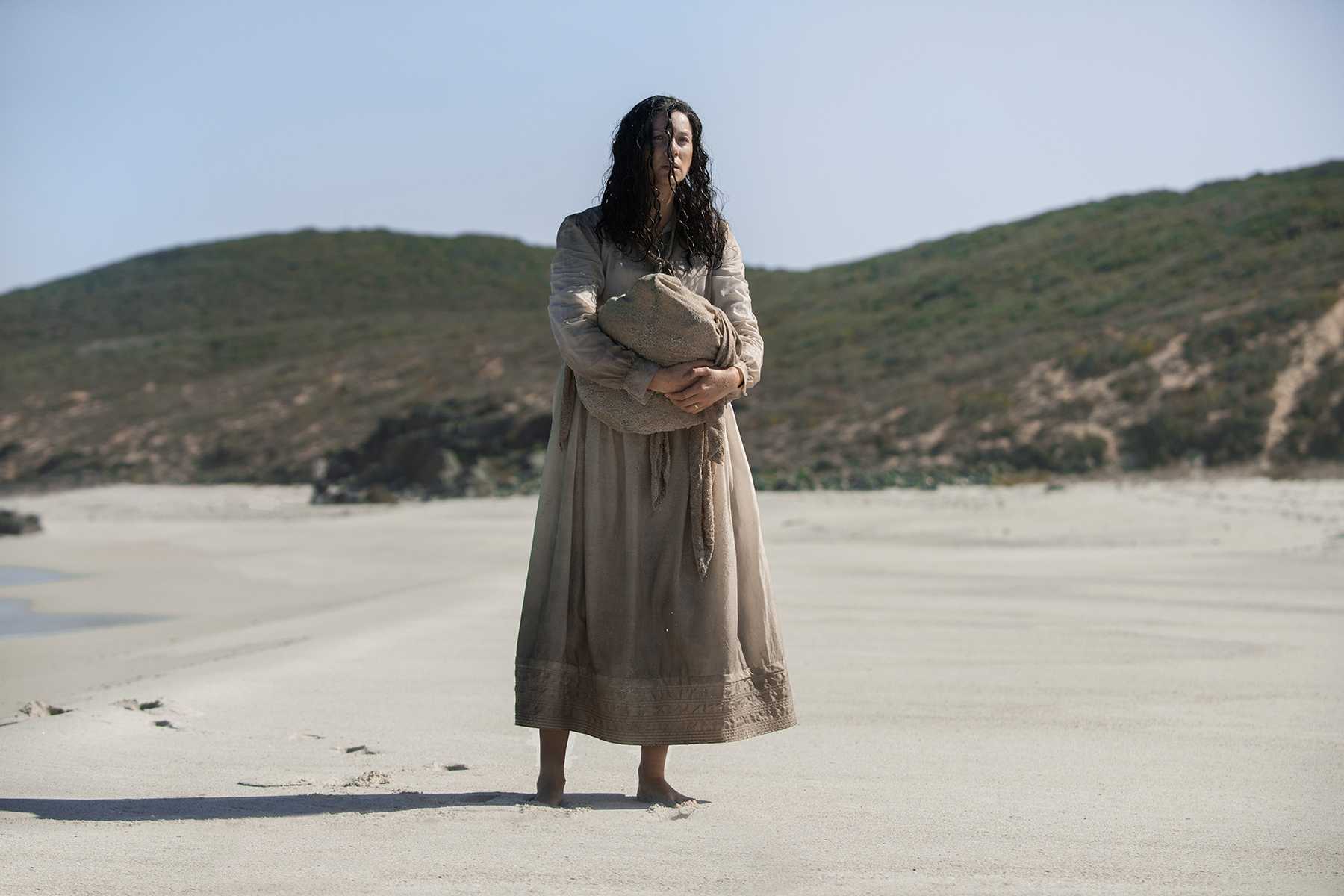 Her clothes, the different segments of the Batsuit costume, continue to expand in function as she removes them from her person, a perpetual balance of aesthetic and utility. Before she leapt from the Porpoise in the final scene of the last episode, Claire had stripped to her shift, bundling her clothes onto the makeshift barrel raft. After washing ashore on Saint Domingue, the first thing she does as a practical woman with a background in surviving outdoors is dry the different pieces out in the sun. They will function as shelter, bandages, knapsack, blanket, headband, and fuel as she presses through the vegetation looking for shelter. Pieces are stripped, repurposed, sacrificed as needed. In the Parisian second season, Claire's costumes were a means to disguise and distract as she and Jamie carried out their ulterior plans; they were as much a part of the intrigue as political discourse and social interactions. This season, costumes form the tangible mechanics of defense that each character carefully constructs: first, to survive the alone times as a bolster against unceasing grief; second, to exist within a persona that will allow for work to be done; third, to transition back together but not without reinforcements.
True to Claire's tenacious nature, her defenses are sharpest when she is on the offense, and despite heat, thirst, insect bites, and a gigantic python as a bunkmate, she presses forward. In regards to that last surprise, Caitriona Balfe's preternatural calm reminded me of the hostess feeling a cobra on her foot in "The Dinner Party" by Mona Gardner - only her long fingers revealed her distress! Director Charlotte Brändström and writers Karen Campbell and Shannon Goss crafted a uniquely feminine journey in this episode as all the facets of Claire's identity, from her childhood adventures with her uncle to her science background to her kinesthetic-tactile sensitivity. All these facets work together, like her suit, to prolong her survival in the elements.
So much of the episode centers around the sense of touch, the sharpness of sound and exposed light making her injuries and exposure more visceral. Sunburn on dirty skin, blisters, infected sores, dehydration…we are privy to Claire's physical suffering along with glimpses into her mental resolve through bits of narration. She does not allow the unresolved questions about Jamie's whereabouts or her own wellbeing to consume her; rather, her scientific background shapes her plan for shelter, then civilization, then help.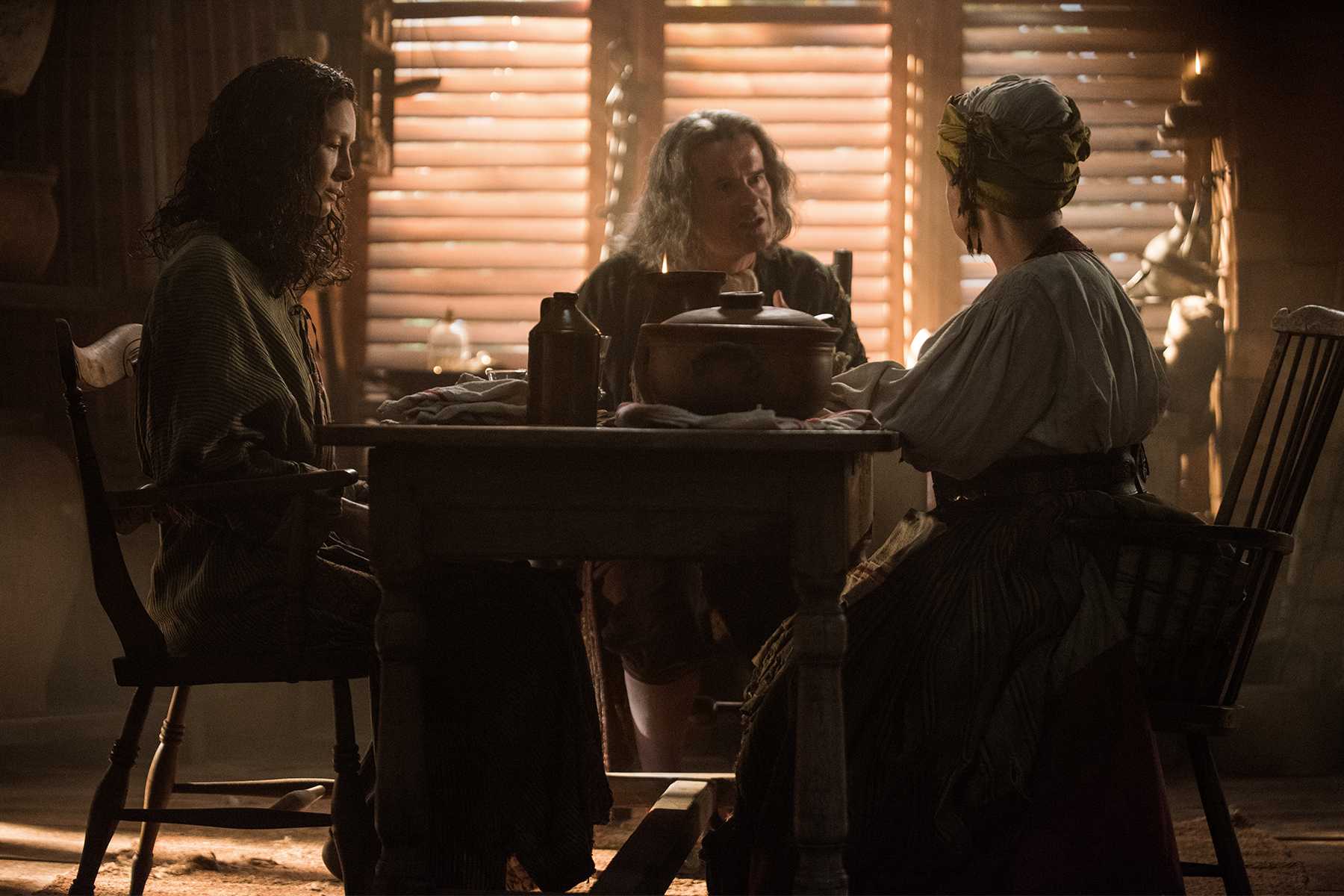 Help comes from another strong woman when she stumbles upon Hacienda de la Fuente and the kindly but cuckoo stoner Father Fodgen (Nick Fletcher) and his mother-in-law, Mamacita (Vivi Lepori). From the start, Mamacita takes charge of the mysterious intruder in her carefully managed household, applying a salve to Claire's infected bites and tying her to the bed when she tried to scratch in her unconscious state. It is clear that although she distrusts Claire and wants her to leave immediately, she also asserts her role in the house in both subtle and explicit ways to show that she is in control. She alternates between the informal tú style of Spanish and English phrases around Claire and Fogden follows suit; it is Mamacita who decides what the guest will hear and not hear and the host will do and not do. She cleans and mends Claire's clothes and draws a bath for her. She prepares her specialty of plantains and beans for dinner. It is clear who is the lady of the house and she will not be replaced by a "whore" or "Jezebel."
Actually, I think her misperception began with part of Claire's costume: the zippered corset. When Mamacita inspects it, I think she figured it was some sort of strange adornment to Claire's undergarment, and no morally upstanding woman would need to show off her delicates in such a shiny, brazen way. Must be a loose woman! As Mamacita's daughter and Fogden's late wife, Ermenegilda, has become an icon of worship in the house, her best dress hanging like a shrine by his bed, such a strange, unchaste woman might enchant the man and threaten the older woman's place. She is the one who tells Claire where to run to find the shipwrecked sailors on the beach, as she obviously knows the terrain well enough to follow goat paths to and from the shore - who knows if Fogden and his nutty pal Coco would have been able to escort her to St. Louis du Nord.
After the intensity of Claire's days in the elements and the gonzo stay at the Hacienda, the sequence where the sailors are indeed revealed to be Jamie and the rest of the survivors of the Artemis's fate amidst the shoals (fortunately, the hull was not damaged, and the foremast and mainsail could be repaired) feels almost sedate in comparison. The scene on the beach (we never see the wreck, only hear Jamie and Fergus speak of it) is so abrupt that it fails to carry the silent potency of Claire's survival in the jungle or the frenzied pace of her dash to the shoreline. Hopefully, there is a deleted or extended scene of the damage to the Artemis that will enable a more fluid transition to Jamie's reappearance. Claire's signaling to the ship with the mirror was a pretty MacGuyver move - I thought she might have taken it from Fogden's room to aid in future campfires - and they reconnect in one of those full-bodied, tumultuous embraces, all lips and arms and heaving breaths, accompanied by Bear McCreary's sweeping score.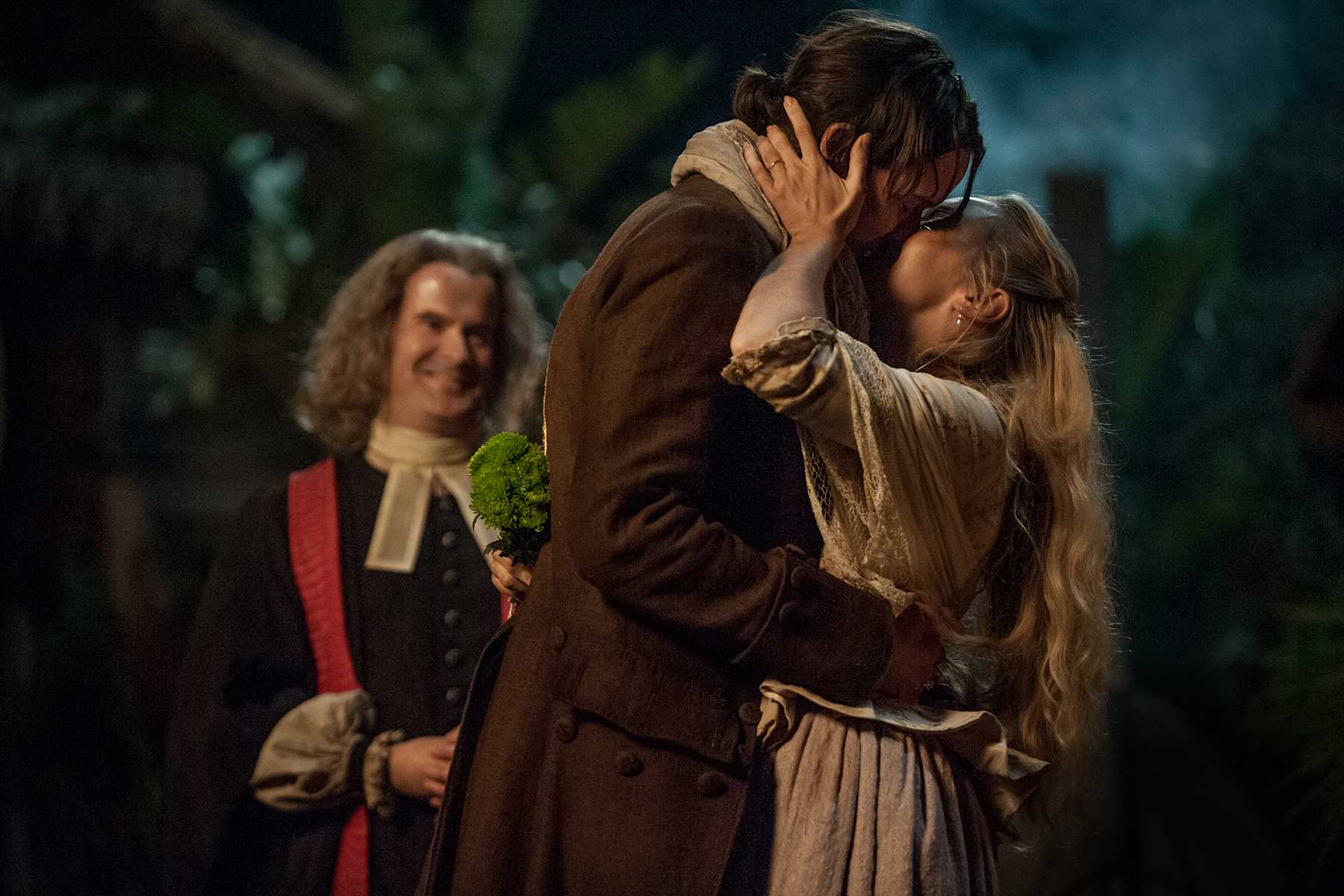 As subtly as Mamacita reveals her strength and control over her household, Marsali (Lauren Lyle) instead displays an outward boldness with all the fiery dramatics of a teenager but also an internal resolve as she is determined to set her own path. She left home on her own, stands up to her stepfather, and joins the roster of 18th century women who consider Claire a whore (a few more and they've got a quorum). Less a product of Laoghaire than an astute observer of her life, Marsali does not want to start out in the same situation as her mother or end up the same way, full of bitterness and regret and aging too fast. Children see and understand much more than adults realize, and she details her mother's unhappiness as Claire helps her dress for the wedding. She wants to marry for love and expects more from her union with Fergus than producing children - a novel concept for the time - and she even admits to admiring how Claire and Jamie behave around and treat each other. Fortunately, she has a partner who loves how she speaks her mind and a stepmother who understands her viewpoint.
At the beginning of the season, my review of the first six episodes was entitled "The Naming of Names," after a Ray Bradbury story about voyagers who settled on Mars. As the latter half of the season has progressed, characters such as Yi Tien Cho (Gary Young) and Fergus (César Domboy) have experienced their own struggles with identity in a foreign land as societal perceptions of one are formed by ethnic stereotype and the other by physical handicap. While the sailors and even Jamie still call him Mr. Willoughby, Claire makes a point to use the birth name of the Chinese immigrant; she recognizes him as a fellow outsider whose skills are undervalued or misunderstood, and he refers to her as 'Honorable Wife.' Fergus also got his pseudonym from Jamie as a young pickpocket in Paris, and it has stuck through his adulthood as he continues to lean on Jamie for support and shelter. At his wedding to Marsali, Jamie officially bestows his surname on son fils: Fergus Claudel Fraser, purposely including his French name as well. It represents Fergus's symbolic transition into manhood, while Jamie at last has a son that can carry on the Fraser name. It was kind of the Father to include a blessing of Jamie and Claire's marriage as part of his benediction in the wedding, as they have enabled others to have a fresh start.
In the episode's final scene, where Claire grows unrestrained by the sherry in Yi Tien Cho's turtle soup and her own fever from her injured arm, Jamie lets her run wild with lust but also makes sure she is lucid enough to steer the proceedings on her own two feet. It speaks to their relationship that he needs her to be fully engaged so as not to "take advantage of a woman who is not only wounded and boiling with fever but drunk as well." It's good to see Claire with the stays off, literally and figuratively, able to luxuriate in her sexuality with a lover who is able to read and match her sexually. Much like the exquisitely refreshing bath she had enjoyed the previous day at Father Fogden's, when her every muscle seemed to rejoice as she immersed herself in the water, her physical reconnection with Jamie is playful and passionate as every fevered inch sparks at his touch - a dance of fire that hearkens back to her night in the jungle.